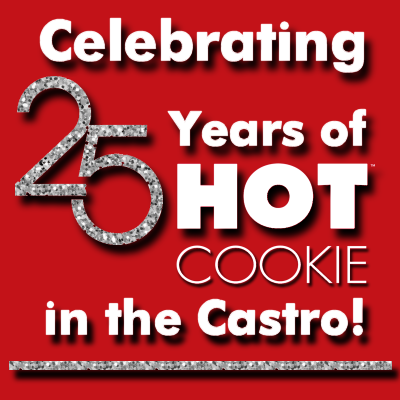 Hot Cookie is Celebrating 25 Years!
November 01, 2022
This year marks 25 years since the opening of Hot Cookie on Castro Street. A month-long celebration will kick off November 1st with special promotions, rollback pricing, a customer appreciation party, and plenty of sexy surprises during our birthday month.

Opened in 1997 by Dan Glazer, Hot Cookie has become a staple of the Castro neighborhood and an iconic business presence. What began as a simple cookie shop evolved into a unique customer experience, due to our provocative cookie shapes, racy cookie names, and the introduction of the infamous Hot Cookie underwear. Customers love to model these in our store and pose with our sexy Famous treats which led to our iconic wall of customer photos.
Since changing ownership in 2015, Hot Cookie has focused on "The 3 Cs" of our mission – Cookies, Customers, and Community. Each week in November, we will focus on these three things that have guided our business.

Cookies Week (November 1-7) will feature our latest Hot Cookie of the Month and rollback pricing on our classic Chocolate Chip cookie – AKA the Basic Bitch – to 1997 prices. In addition, we'll be offering our discounted "Yesterday's Cookies" for just 50 cents all week long.

During Customers Week (November 8-15), we will be offering double rewards points on all purchases for customers who join our Friends with Benefits program. We will also be giving away a 2-night stay at the Fairmont Hotel and other prizes in an Instagram promotion. We will cap off the week with a Customer Appreciation Party at our Polk Street store on Sunday, November 13th from 5-7pm.

Finally, we will celebrate Community Week (November 16-22) with a spotlight on the many incredible community agencies, services, and events that Hot Cookie partners with and supports throughout the year. During this week, 25% of all sales of our Hot Cookie of the Month will benefit Larkin Street Youth Services.